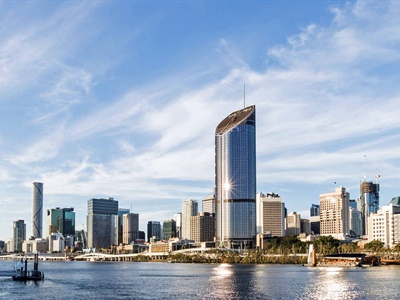 As office workers move into Brisbane's tallest tower at One William Street, the productivity, sustainability and economic benefits of high quality development are under the spotlight.
By Christmas, more than 5,000 Queensland Government employees from 20 different locations will call the 43-storey skyscraper home.
Developed by Cbus Property and built by Multiplex, the 267-metre high-rise has a total gross floor area of 119,977 sqm, offering the Queensland Government significant savings as it consolidates its workforce.
Cbus Property chief executive officer Adrian Pozzo says the new offices will provide a high-performance workplace that contributes to better collaboration and workplace efficiency and allows the government to compete with the private sector in the battle for talent.
"This has been an investment in efficiency because, in many cases, the government is leaving old, inefficient and under-occupied buildings which are unattractive workspaces," Pozzo says.
"One William Street was originally conceived as a building that would be leased to both the government and the private sector, but by securing the entire building, the government has achieved value for money with competitive commercial terms on both the lease and fitout."
The open plan layout encourages collaboration, and the indoor environment – everything from the lighting to the air quality – has been designed to enhance productivity.
Around a third of the desks incorporate electric 'sit to stand' options, and all employees have equitable access to daylight and spectacular views.
The building has a 5 Star Green Star rating, representing Australian Excellence in design, and the Green Star certification for completed construction is underway. Cbus Property has also achieved a 5 star NABERS office energy rating and 3 star NABERS office water rating, making it one of Brisbane's most environmentally-efficient office buildings.
Health and wellbeing is a hallmark of One William Street, with 680 bike racks, 60 showers and 650 lockers encouraging staff to choose active travel options.
The real secret to the project's success will be found in the economic uplift generated across the city, says CBRE's Queensland state director John Walklate.
"One William Street is undoubtedly a high-quality building – it's the biggest office tower ever created and constructed in Brisbane," he says.
"As Brisbane continues to mature as a destination, we need good quality buildings. That means a consistent upgrade of our office stock base."
Walklate says this end of the CBD is undergoing significant renewal, with a multi-billion-dollar integrated resort precinct expected to commence in 2018, incorporating retail, hotels and residential. Up the road at Brisbane Quarter, a five-star hotel, office and high-quality residential development is in the pipeline.
"With all these projects in combination, Brisbane is fast becoming a significant destination. As we attract increased visitation to our city, buildings of the quality of One William Street will generate positive sentiment – and this can only benefit commerce here in Queensland," Walklate adds.
The project also created thousands of local jobs during the construction period.
"Our ability to deliver a project of this size on-time and to the highest of standards, is testament to the hard work and commitment of the over 4,500 workers involved in the delivery of One William Street," says Rod McDonald, regional managing director of Multiplex in Queensland.
"We're really proud of One William Street and are honoured to have worked on this landmark project which is an impressive addition to Brisbane's city skyline."