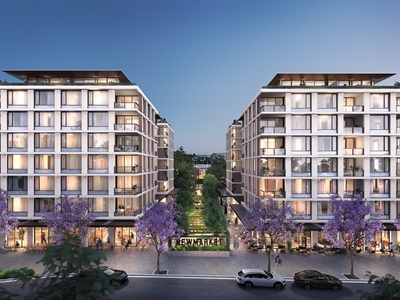 One of Australia's most awarded and trusted national developers, Cbus Property, has appointed Ganellen as the builder of the first stage of its brand new master-planned neighbourhood – Newmarket Randwick – set to reinvigorate the popular Sydney suburb.
The privately-owned construction company has strong, longstanding links to Randwick and its immediate area – Ganellen's CEO and Managing Director went to the local public schools in the suburb and live nearby, as does its Senior Project Manager and Construction Manager. Each will be actively involved to ensure the project's successful delivery.
"We're excited to play an integral part in Newmarket, Randwick," says Ganellen's Managing Director, Nick Kodos. "Cbus Property shares our passion and commitment to delivering high quality, sustainable, residential projects that enhance their environment.
"With key members of our executive and site team part of the local community including being a sponsor of Clovelly Surf Life Savings Nippers, our appointment has extra special meaning for us and our team," he adds.
Cbus Property's CEO Adrian Pozzo says the team is very pleased to be partnering with Ganellen on Newmarket Randwick.
"Cbus Property, together with Ganellen, is excited to be delivering an outstanding development to the future residents of Newmarket Randwick. We are confident that the development will be completed with the utmost attention to detail and finish," said Mr Pozzo.
Since its inception in 1998, Ganellen has delivered over $1B of construction work including 100 residential, commercial, hotel, education and infrastructure projects.
Current and recent projects include:
• King & Phillip luxury residencies (Sydney, CBD)
• Primus Heritage 5 Star Hotel (Sydney, CBD)
• Harbord Diggers Re-Development (Freshwater)
• Kiaora Lane Retail Precinct (Double Bay)
• Novartis Pharmaceutical Headquarters (Macquarie Park)
• The Beach House (Bondi Beach)
• Antias Apartments (Jacksons Landing precinct, Pyrmont).
Just 6km from Sydney's CBD, Newmarket Randwick will transform the historic former Inglis Newmarket Stables site on Barker Street into an exciting and unique masterplanned community.
Newmarket brings together four leading Australian architects and a top landscape architect to pay homage Randwick's past while building its future as a place for all.
Newmarket will feature a mix of 642 new apartments, townhouses and terraces set within landscaped gardens to suit every aspiring homeowner or investor.
State-of-the-art contemporary living will combine with 2300sqm of thoughtfully curated retail, dining and leisure precincts and over 5,000sqm of parks and open space to create a new iconic destination.
Lush landscaped gardens feature 100 year old figure trees and family-friendly features such as communal barbecues, a community garden and a playground promises to create one of Sydney's most covetable lifestyle addresses.
www.newmarketrandwick.com.au
www.ganellen.com
For further information, please contact Kate Funnell at The Trish Nicol Agency on 02 9356 2711 or kate@trishnicolagency.com.au