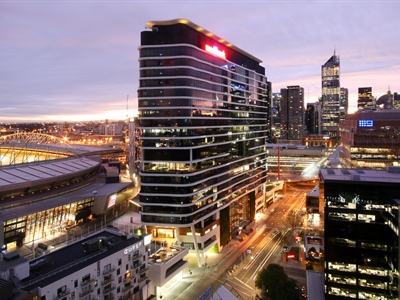 Melbourne, Australia—Global construction company Brookfield Multiplex has completed the development of an approximately $410 million (AUD 440 million) mixed-use office building for Cbus Property in Melbourne.

Located at 720 Bourke Street in Docklands, on the west side of the city's central business district, the 22-story high-rise offers a net leasable area of more than 505,000 square feet (47,000 square meters). Construction on the project began in May 2012.

The tower hosts a mix of commercial tenants, including Medibank as its anchor tenant, a variety of food and retail options, and several multipurpose sporting facilities.

Designed by Hassell Architects, the building incorporates a central atrium that reaches to the top floor and provides an abundance of natural light. It also features a double-glazed glass, perforated metal screens, metal cladding and timber, stone tiling and timber panels in the lobbies, vertical gardens, more than 16,000 square feet of open garden space and two large green walls that create a park-like atmosphere typically seen in residential developments.

The tower's office component is certified for a Six Star Green Star Office Design v3 rating and also aims to achieve a 5 star NABERS rating.

Environmentally sustainable design elements include under floor air distribution, a building management system, as well as controlled mechanical and electrical systems, green planting, recycled water use, a trigeneration system, photo voltaic cells on the roof and a nearly 61,000-gallon storage tank for rainwater catchment and irrigation.

"720 Bourke Street is an impressive building that stands out on the Docklands skyline. The complexity of the project was managed in collaboration with our client Cbus Property to deliver an outstanding commercial building," Graham Cottam, regional managing director of Brookfield Multiplex Victoria, says.

The new high-rise is adjacent to Etihad Stadium, which has retail space and a basketball court built over its main driveway to the parking lot. During construction, Brookfield Multiplex was asked to maintain access to the stadium and the parking lot with minimal disruption to events.

"We have extensive experience working on live and busy city sites both interacting with public and entertainment events and were able to create new pedestrian access to the site so that fans could get to their AFL games easily," adds Cottam.