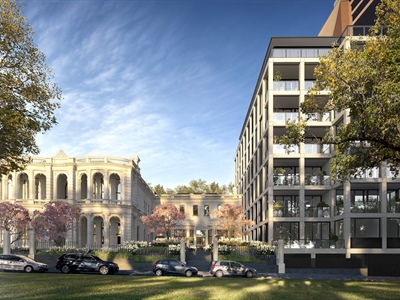 Mosspennoch House is set to be restored to form a luxury trifecta of residences called Classic East Melbourne, marking the first joint project by Brookfield and Cbus Property.
The development will be a collection of three unique residential buildings featuring 67 large-format apartment residences in total.
Located beside Pullman on the Park, Classic East Melbourne will restore historic Mosspennoch House, transforming the stately Clarendon Street manor.
It will also add a new seven level building, 22 Clarendon, next to Mosspennoch, featuring 11 half-floor apartments and a full-floor penthouse boasting a wrap-around balcony with 360 degree views.
Complementing these buildings is a new fourteen level building, Parade, on Wellington Parade, featuring 49 apartments, including two generously sized penthouses. Designed by Bates Smart, 22 Clarendon and Parade will sit sensitively in the Fitzroy Gardens precinct and complement Mosspennoch, creating a new and exclusive enclave.
Bates Smart Studio Director Steve Jones said the design company want ed to blend contemporary with luxury.
"We wanted to create a collection of residences that blends the requirements of contemporary lifestyle with the grand style of living that is synonymous with East Melbourne. The new buildings are designed as meticulously crafted contemporary companions for Mosspennoch House and the historic residential fabric of East Melbourne.
"As a landmark site it required a sophisticated architectural response that is as timeless as the suburb of East Melbourne itself, while incorporating stunning views to the surrounding Fitzroy Gardens and Yarra Park. Outdoor living is integrated into the design with generous private resident gardens supplemented by individual terraces and balconies to each of the apartments," he said.
The result is a rhythmic structure with a clear form delineated by a grid-like frame. Within this frame, deep balconies with glass balustrades are complemented by floor-to-ceiling glazing, creating a calm and restrained presence on each street. The interior design by Bates Smart utilises a calm and sophisticated selection of high quality natural materials that allows residents to tailor their new home to their personal preferences, while exuding the quintessential quality of living that makes East Melbourne one of the most desirable residential addresses in Melbourne.
Leading heritage architect Lovell Chen will oversee the restoration of Mosspennoch, which will feature mansion-style apartments that fuse the old with new and surprise with their generous proportions. The historical theme will be continued on Wellington Parade via incorporation of the former MCG Hotel which will be transformed to contain a luxurious three bedroom residence and communal resident's lounge area.
The oasis-like calm of the neighbouring Fitzroy Gardens will be brought to life throughout the development by a range of private resident garden retreats designed by Tract.
Mosspennoch and 22 Clarendon will be linked via a large private garden, featuring a fountain and pond set on heritage-inspired black and white checkerboard tiling. Here, opulent planter beds will tie the buildings to their park-side location. Parade will feature a large resident's garden on level four, located on the northern side of the building to capture natural sunlight.
An idyllic escape zone, it features a reflection pond, arbours, pergolas and other spaces designed for quiet contemplation. Carl Schibrowski, Head of Development, Brookfield Property Partners in Australia, said the collection of residences were a unique proposition, not only for their location in tightly held East Melbourne, but also for their triple offering and sweeping views of the CBD, iconic MCG and surrounding suburbs.
"This is an iconic parcel that commanded a special approach out of respect of the site's heritage and location," he said. "It is one of the most unique developments we have created and a project we are confident stands apart from anything else in the market. From the start we were very fixed on delivering a boutique offering in this suburb, which is known for its privacy and exclusivity.
"We will also be investing significant capital into repositioning the Pullman on the Park arrival experience as well as food and beverage offering, delivering a completed precinct solution to this important East Melbourne location."
Cbus Property CEO Adrian Pozzo said the partners were confident the market was strong and that the generously sized apartments would appeal to the ever-growing empty nester and upgrader markets.
"We have listened to the market and know that size matters to a certain type of purchaser. These purchasers are looking for large spaces with immediate access to all that the local area has to offer including the incredible parklands that surround the project,"
"Classic East Melbourne adds three luxury penthouses to the market and we know there is an appetite for these statement homes."