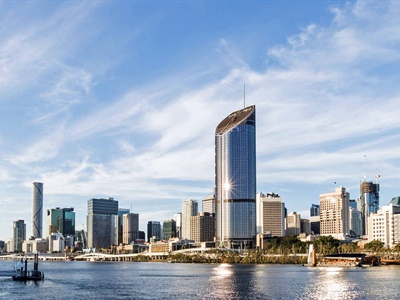 The Newman government has signed a $562 million deal to sell the bulk of its office buildings in Brisbane's CBD to Queensland Investment Corporation – a move that will leave Premier Campbell Newman open to claims he has broken a promise not to sell assets before the 2015 election.
Treasurer Tim Nicholls on Thursday confirmed the sale of seven office towers, which equates to 7 per cent of all office space in the city centre. He said the proceeds will be used to pay down the state's debt, which was due to reach $82 billion by 2015-16.
As foreshadowed in The Australian Financial Review last year, the Newman government has been working on a plan to privatise several government leased office buildings out of its $2 billion portfolio.
Under the deal, the state government – which is already retracting about 40,000 square metres of office space in Brisbane – will sell the buildings to funds controlled by the state-owned QIC, including non-government superannuation funds. It will then lease the buildings back for between four and 15 years with set lease costs and fixed rent increases.
The buildings include 111 George Street, the Department of Primary Industry's 62- 80 Ann Street, Mineral House at 41 George Street, Education House at 54 Mary Street, the David Longland Building at 63 George Street, a tower at 61 Mary Street and a smaller building at 33 Charlotte Street.
The deal signals the beginning of a carefully orchestrated privatisation program by the Liberal National Party government. While the Newman government has long said it would seek a "mandate from the people" before assets were sold, Mr Nicholls qualified the statement after winning office last year by saying that sales of property would only happen depending on the relocation of government departments.
It follows the government's recent decision to award Cbus the right to build the new government headquarters at 1 William Street. Mr Nicholls said it was a good deal for Queensland taxpayers which would save them about $130 million a year in interest payments. It will also help the state regain the AAA credit rating the former Labor government lost in 2009.
"For the government, it means the financial risk associated with owning these office buildings is removed," Mr Nicholls said.
"It means we can focus on providing more and better services for Queensland families rather than concentrating on the running and maintenance of old and rundown office accommodation."
Mr Nicholls defended the private sale to QIC rather than an open tender saying it wanted a quick sale and didn't want to flood the market for commercial office space in Brisbane.
The $2 million Costello commission of audit, which will be released in full later this month, recommended the sale of $25 billion to $30 billion in public assets to help pay down debt.