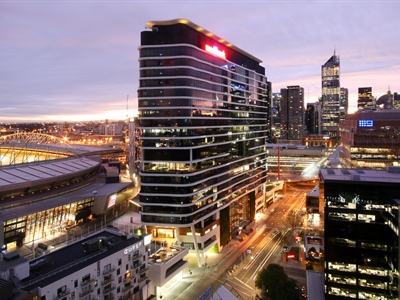 A bicycle ramp will spiral up three levels in the new Medibank headquarters building in Melbourne's Dockland, creating 300 bike parking spaces for the people who work there.
The building designed by HASSELL for developer Cbus, will be clad in greenery and feature a 1,000 square metre park on the concourse level as the arrival to the building. The park is an innovative way of adding green to the urban Docklands precinct.
A basketball and netball court, public entertainment area and an 'edible' garden for Medibank's staff are also included in the design.
The official ground breaking ceremony for the project was held today. Medibank will occupy 30,000 square metres and other tenants a total of 16,000 square metres in the 20 storey building. HASSELL will also design the interior of the floors occupied by Medibank.
HASSELL Melbourne Managing Principal Ingrid Bakker said the design will deliver an active urban park as a gateway to Docklands.
"The building will be one of the most distinctive in Docklands with the park acting as a gateway for the entire precinct," she said.
"It will also be a great place to work. Medibank provided an inspirational brief based on their 'for better health' brand. Medibank recognises that people's health can be affected by the building they work in. It wants a building that promotes employee health and encourages healthy lifestyles. It wants a workplace that serves as an exemplar of healthy work environment.
"That was the brief they gave us and the design we have come up will create a workplace that employee wants to work in. It will be a powerful recruitment tool for Medibank."
HASSELL is developing an interior design for the building that aims to introduce a completely different way of allocating and occupying the workspaces at Medibank. Based on the concept of activity-based working, it will be:
More dynamic and flexible than traditional workplaces
More outcome focused
More collaborative
Self-organising.
Employees will each have a laptop computer and a mobile phone but no permanently allocated desk. Teams have their own allocated shared spaces and access to informal meeting and working areas and more formal meeting rooms. Technology in the building will be designed to support this kind of activity based working.
"The workplace design will be carefully tailored to the way people at Medibank want to work," said Ingrid Bakker. "It will foster teamwork and collaboration and allow very efficient use of the space.
"The design process has been very collaborative with HASSELL, Cbus and Medibank all working towards a shared vision -a fantastic workplace in a beautiful, sustainable building that brings new life and energy to Docklands."
Medibank is schedule to move in to its new headquarters in 2014.