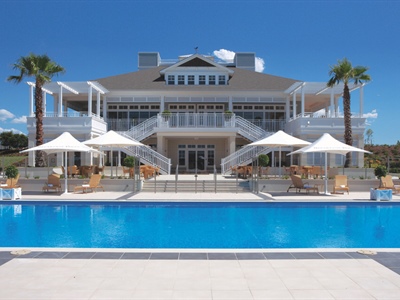 If you visited Breakfast Point in the 1990s you would have seen an enormous coal-guzzling gasworks run by AGL, which generated gas for much of Sydney. But times have changed.
Today, the suburb of Breakfast Point – sandwiched between Cabarita and Mortlake on the Parramatta River – is home to one of Sydney's largest and most intriguing planned residential communities.
There are gleaming white houses, a village green surrounded by a white picket fence and an expansive Country Club with a swimming pool that wouldn't seem out of place in the Hamptons.
Pebbled pathways run alongside the river and palm trees sway in the breeze.And it's incredibly quiet.
The suburb sits on a peninsula and there are no direct through roads from Mortlake to Cabarita.
The residential development, which is also called Breakfast Point, has been in planning since the late 1990s and is now home to about 3000 people. Construction of the final apartment building is due to be completed next month.
"The developers were quite clever," says Alison Beveridge, founder of Breakfast Point Realty.
"It's taken them 15 years to develop the whole suburb, and decisions were made to slow down or speed up based on market conditions."
When Beveridge set up shop in 2003, only four residential buildings had been completed. Now, there are more than 60.
"When I first started, no one knew what Breakfast Point was," she says. "I used to put ads in the Hills District papers and just use images of the waterfront to entice people."
But word spread and the development began to entice investors, residents from nearby suburbs such as Concord and downsizers from across Sydney.Beveridge attributes the suburb's tranquil vibe to the so-called "family phenomenon".
"I could introduce you to 20 families with multiple members living in the suburb now," she says. "One comes and then a relative will follow. We've got three generations in some cases. It's been incredible to watch."
David Camilleri and his partner Ray discovered the development in 2005 after attending a lunch in nearby Cabarita.
Since then, the pair of serial renovators have bought and sold several properties in Breakfast Point. Initially, buying at Breakfast Point "was a bit risky", Camilleri admits.
"You were buying into an idea. There was no Country Club or village green at that stage."But the pair, who were living in inner-city Elizabeth Bay at the time, had a good feeling.
"Sometimes you have to go with your gut," Camilleri says.Camilleri, a wealth manager, catches the Jetcat ferry from nearby Cabarita wharf to the CBD for work.
At one stage, the pair left the development and bought a house in Cabarita with the intention of putting down roots.
"But even though that house was beautiful, it never felt right," Camilleri says.
"The neighbourhood just didn't have the community feel that Breakfast Point has.
"They now own a three-bedroom apartment in Breakfast Point, which they are renovating, plus a one-bedroom investment property that they are renting out.
Walking along Breakfast Point's impeccably maintained streets can conjure images of American suburbia in the 1950s: conservative and conformist.
Camilleri admits that, from the outside, the development can appear homogenous – but he says the community is surprisingly mixed."You have all kinds: all nationalities, all ages, all walks of life," he says.
"Everybody respects each other and gets along. That is a massive reason why living here is so good."When we first came here, we wondered if we'd be 'the only gays in the village' but within two minutes of stepping out the front door we met another gay couple.
"Compared with some parts of Sydney, price growth in Breakfast Point over the past five years has been more modest – the median apartment price has increased 63 per cent to $1.1 million, according to Domain data.
But now that the development is more-or-less built, Beveridge expects prices will rise further.
"Everybody selling here is making money," she says. "If you bought 10 years ago, you're certainly making money.
"A top-floor waterfront apartment sold last week and the sellers made over a million bucks in just 18 months."Camilleri is similarly bullish. He says the last Breakfast Point property he sold was snapped up within an hour of going on the market."
And, now the construction is wrapping up, the place is developing a character of its own," he adds.