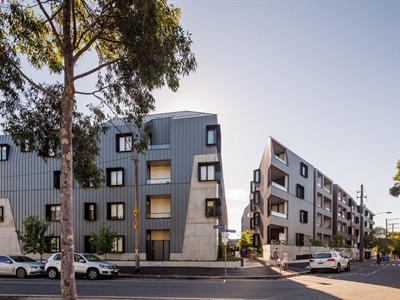 Located in North Melbourne, on the fringes of the CBD, lies a new apartment complex known as 'Assembly'.
According to the property's developer, Cbus Property, Assembly is a unique approach to Melbourne's residential scene and breaks the mould of typical apartment living. It's very being is centred around the owner-occupier market, leaning away from high-rise tower living with 138 low-rise apartments shared between four distinctive buildings.
The village-style setting of the $80 million project's four buildings, designed by Woods Bagot, contain a European-style courtyard with landscaped laneways between the buildings and communal rooftop terraces to take advantage of city views.
Woods Bagot's architectural design has given each building a sense of individuality, which allows occupants the opportunity to identify their own home within the overall development.
Splitting the site into four buildings also allows the collective to breathe and provides good cross ventilation in apartments, abundant natural light and a level of both intimacy and privacy for residents.
Cbus Property CEO Adrian Pozzo believes that when it comes to apartments, the owner-occupier market in the inner fringe has largely been forgotten as the industry races to fill investor and downsizer needs.
"We can see this segment is greatly underserved. There are a lot of young professionals, couples and affluent singles in Melbourne willing to pay more for generous, well-designed and quality apartments where they can live and entertain," he said.
Assembly's overall design draws on North Melbourne's industrial heritage, inspired by its warehouse architecture and blending in with its own 'industrial' look and feel.
Woods Bagot Principal and lead designer Peter Miglis said it was important to express this crafting through the art of the building.
This open- plan warehouse aesthetic includes exposed concrete living area ceilings and balcony soffits, wide white oak floorboards and 2.7 metre high ceilings with kitchen areas defined by ceiling bulkheads.
The bathrooms have frameless glass shower screens and vanity storage. Bedrooms have built-in wardrobes and wool-blend carpets and all floor plans include a concealed laundry. Assembly's energy rating is six star thanks to elements like rainwater harvesting systems, bicycle storage and fittings that allow for water and energy efficiency.
Assembly's central courtyard was designed by Jack Merlo Design and contains large jacaranda trees and built-in seating that provides a protected and private space. Jack Merlo's courtyard also contains communal barbeque facilities and is designed to connect the four buildings as one property and promote a sense of community.
One and two-bedroom apartments have internal areas ranging from 43 sqm to 89 sqm. All apartments have a ground-level terrace ranging from six sqm to 38 sqm or a balcony from five sqm to 59 sqm.
Assembly is bordered on three sides by Capel, Courtney and Queensberry Street and is a few minutes' walk from the CBD, the University of Melbourne and Parkville hospitals.
Assembly – Fast Facts
Location
181 Capel Street, North Melbourne
Developer
Cbus Property
Building and interior design
Woods Bagot
Landscape design
Jack Merlo Design
Standard features
Exposed-concrete living area ceilings and soffits for most apartments
Wide white oak floorboards
Wool-blend carpet
Porcelain tiling
Timber veneer kitchen joinery
Caesarstone bathroom and kitchen benchtops
Porcelain tiling to bathroom, frameless glass shower screens, in-wall cistern, above and below vanity storage
Built-in wardrobes in all bedrooms
Concealed laundry
Ground-level courtyard or balcony
Eco green rating
Six-star-plus energy rating
Performance glazing
Rainwater harvesting
Bicycle storage
Facilities
Two communal rooftop terraces
Central European-style planted courtyard with built-in seating
Landscaped laneways between buildings
Secure basement parking and storage
Lift in each building
Video intercom