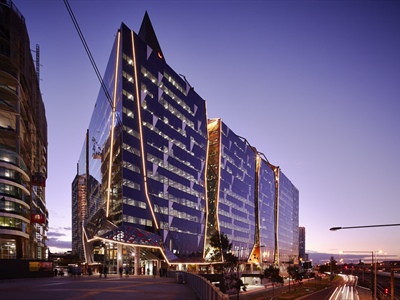 AMP Capital expects an average income yield of 7 per cent over the next 10 years after buying the National Australia Bank building in Docklands for $433.5 million.
The acquisition by AMP Capital's Wholesale Office Fund (AWOF) completes a $1 billion divestment by Cbus Property as it recycles capital into its ­burgeoning pipeline.
A second Melbourne asset, the CBW complex, was taken over by GPT Group, backed by its unlisted office fund, for $608.1 million.
Completed only last year, the Docklands asset at 700 Bourke Street is near 99 per cent leased to NAB, with an average lease expiry of 13.6 years. AMP can count on solid 4 per cent fixed rental increases each year to boost the long-term income yield up to 7 per cent.
But the initial yield is much sharper, at 5.75 per cent, reflecting the strong cov­enant and the minimal capital expenditure required for the new 63,000-square-metre building.
"The acquisition is consistent with our strategy to acquire modern, prime office assets in the major Australian central business district markets and is a further example of AWOF recycling capital out of non-core assets into core assets," AWOF fund manager Nick McGrath said.
"Not only is it an iconic building of architectural significance, it will improve the overall quality of the portfolio and give our investors greater exposure to the Melbourne market via an asset that will provide a strong and growing cash flow over the long-term."
Colliers International's John Marasco, Nick Rathgeber, and Leigh Melbourne and Savills' Ian Hetherington handled the Cbus Property transactions, both landmark deals for the Melbourne market.
The CBW transaction went through on an initial yield of 6 per cent, with the capitalisation rate to hit 6.5 per cent on the under-rented property. AMP's Docklands acquisition will be funded through a new debt facility, with AWOF to launch a capital raising in coming months.
Separately, GPT Group has joined forces with a partner to buy Brisbane's $400 million Mount Ommaney Centre, which was put up for sale in a restructure of AMP's Australian Core Property Portfolio. Colliers International's Lachlan MacGillivray is handling the sale, but could not be reached for comment.
Sources suggested either TIAA-Henderson or AMP's shopping centre fund was GPT's joint venture partner, but AMP declined to comment on the transaction.