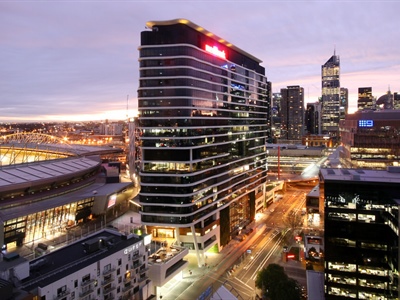 Superannuation fund-backed Cbus Property has unveiled its ambition to be highly acquisitive over the next 12-18 months, with the group aiming to swoop on sites with a development value of between $5 billion and $6bn.
Cbus Property chief executive Adrian Pozzo said the development giant was trying to secure sites to fill its development pipeline from 2018 to 2020.
"We've got close to $4.5bn of pipeline work which will take us to about 2017-18 and now we are looking at opportunities for the next tranche," Mr Pozzo said.
"That will be on the east coast of Australia, in both commercial and residential, and selective ­opportunities in Adelaide and Perth."
Mr Pozzo said the Melbourne-based Cbus was aiming to gain a bigger presence in the competitive Sydney apartment market, following last weekend's successful apartment sales launch at ­Milsons Point.
He said the group would look for opportunities to grow through mergers and acquisitions, with Cbus already looking briefly at Leighton Properties and even Investa Property Group.
"Should the opportunity arise then yes, my word (we would ­engage in corporate activity)," Mr Pozzo said.
"We looked at Leighton's in the first instance, in the initial phase, but a lot of it was work that had already been arranged.
"We were in (the Investa data room) for about three seconds at the start, but they were all ­buildings that are A-Grade and ­premium and they are just about all fully leased.
"We are looking for development sites or assets that we can add value to with the ­refurb or a redevelopment."
Mr Pozzo also revealed new plans for the site of the $1bn-plus project at Melbourne's 447 Collins Street, after the former and current Victorian governments indicated they would block the ­initial plans for the site, which ­included a tower of 294m.
Mr Pozzo said a development application would be submitted later this year.
The new plans will have a dual tower complex of about 194m in height, with the floor space to be roughly the same as before, which was 175,000sq m. It will include apartments and office space, as well as a 250-room luxury hotel, the first Cbus will develop alone.
"The previous part of the property group was partly responsible for the Westin in Melbourne but this will be our first hotel," Mr Pozzo said, adding that Cbus was in talks with major international hotel brands to manage the ­accommodation.
Mr Pozzo would not share his thoughts on the Victorian government's decision to block the East West Link, only saying: ­"Stability leads to confidence which leads to people spending money, be that investment dollars or household dollars. That's how we all function."