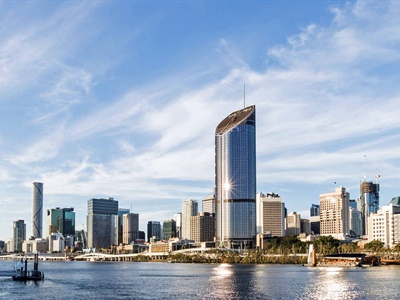 It is a pleasure to be writing to you in the first edition of bmag for 2013, a year that already promises to be a great one for Queenslanders. As my government sets its sights on the hard work that lies ahead, let me share with you some of the reasons that my team – and hopefully you as well – can feel really optimistic that we're heading in the right direction.
When we formed government, we set out on a bold and determined mission to reform Queensland's broken economy; to undo years of mismanagement by Labor and to lower the cost of living for families. We said we'd grow a four pillar economy, revitalise front line services and deliver better infrastructure for Queenslanders. We had a vision and we gave you clear yardsticks against which to measure our performance.
While it hasn't always been easy, not once did we waver from achieving our ambitious goals for Queensland. And at the start of the new year, we were proud to announce that we had successfully completed all 149 items on our Six Month Action Plan.
We delivered a once-in-a-generation budget to set Queensland's finances back on track; we boosted tourism by attracting new aviation routes from overseas; and we encouraged construction growth with amendments to the Sustainable Planning Act.
We said we'd get tough on criminals – and we did – by recruiting more police, introducing tougher sentencing for illegal firearms offences and by amending the Proceeds of Crime Act to crack down on unexplained wealth.
We reformed the Local Government Act to empower local councils; began operation of hospital and health boards across the state; made it illegal to lie to Parliament and much, much more.
We're now more determined than ever to complete what we set out to achieve. Read the full report online at statements.qld.gov.au.
Bruce Highway upgrade
In the week before Christmas we were also very pleased to announce a boost of almost $800million to upgrade the Bruce Highway; a major step in our Bruce Highway Action Plan.
Construction on an additional 13.4 kilometre section of highway between Cooroy and Curra is due to start in the middle of the year and will improve safety – as well as reduce travel times – for the 20,000 motorists who use the road every day. The roadworks will be a major enhancement of infrastructure in the region and will play an important role in saving lives and boosting the Queensland economy.
New tower
At the end of 2012, my government's vision to transform and revitalise the parliamentary end of George and William streets in the city moved one step closer to becoming a reality with the announcement Cbus Property had secured the contract for the $653million project at 1 William Street. Work on the 75,000 square metre site will start immediately and is expected to be completed by the end of 2016. The new office tower will not only invigorate the precinct, it will stimulate the construction industry; one of Queensland's four economic pillars.
Green light for Ella Bay
Another of our four pillars is tourism. In the time since my last column, we have managed to gain approval for a $1.4billion tourism development at Ella Bay in the state's far north. Once completed, it will create more than 800 full-time operational jobs, as well as 240 part-time jobs – not to mention generate around $250million a year in expenditure by visitors and $50million in state government taxes and duties.