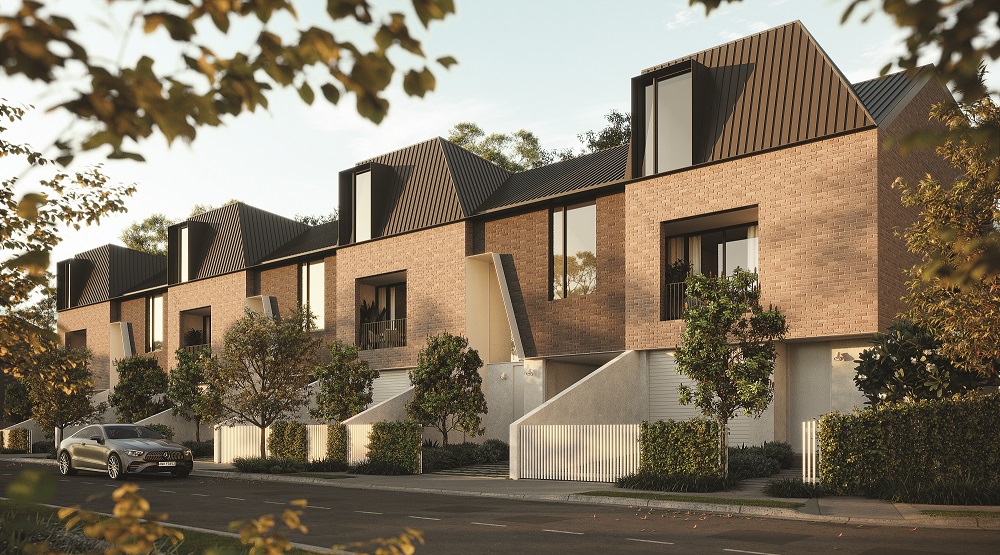 AUGUST 2022
Cbus Property, the award-winning integrated property investor and developer behind the dynamic Newmarket Randwick multi-stage masterplan in Sydney's eastern suburbs, has this week launched its highly anticipated fifth release, The Chiltern Collection.
Marking the final offering in the second stage of the masterplan, the launch follows the overwhelming sales success of the precinct's respective releases of Young & Fennelly and Jane St. Terraces in 2021.
Architecturally designed by nationally acclaimed Neeson Murcutt + Neille and named for the new street it occupies, The Chiltern Collection comprises a boutique collection of 11 three- and four-bedroom unique multi-storey terrace homes.
Cbus Property's Chief Executive Officer, Adrian Pozzo, said the business was delighted to be welcoming another residential concept to its Newmarket Randwick masterplan.
"We present The Chiltern Collection, the latest release of terrace homes within Newmarket Randwick, our vibrant established precinct in Sydney's coveted eastern suburbs," he said.
"We anticipate we will receive interest from local eastern suburbs' buyers and young families, similar to the purchasers who have supported our preceding stages and releases."
Mr Pozzo went on to say that the Torrens-titled terrace homes presented an exciting point of difference from the residential apartments and townhouses that were sold off the plan in the first four releases.
"The Chiltern Collection offers our purchasers the incredibly rare opportunity to buy a terrace and land in an already established precinct in Sydney's eastern suburbs," he said.
"Prospective purchasers can explore the Newmarket Randwick precinct, dine at the cafes and restaurants, explore the amenity on offer and get a real feel for the lively community they may soon call home."
The Chiltern Collection's 11 terrace homes have been designed to capture a strong sense of homecoming, with residents able to drive directly into their property and utilise two car spaces. Solar access is optimised with multiple outdoor living spaces for relaxing and entertaining, including decks, courtyards and terraces.
The terracotta and white glazed brick facades are articulated by the use of windows defined by hoods, some with aluminium battens to provide privacy to the street and relief to the facade. Historical inspiration has informed several interior elements, such as the racing silks of racehorses and the balustrade detailing.
While Neeson Murcutt + Neille has a renowned industry following, the firm is not known to design many multi-residential projects but director, Rachel Neeson, said it was delighted to contribute to the historic fabric of Newmarket Randwick.
"There is something beautiful about an area that has such a rich equestrian history," she said, referencing Randwick's rich and colourful horse-racing past, which has been carefully considered throughout the Newmarket masterplan.
Fellow director, Stephen Neille, echoed the sentiment, saying "the intention was to create family homes that were both delightful and playful".
"These terraces have a unique presence, which is established by the relationship with the street and southern gardens," he said. "They are characterised by generous front gardens and timber fencing, allowing visibility from the street and encouraging interaction between neighbours and the neighbourhood.
"Elements that recede, such as the thresholds, garages and northern balconies, have been treated as 'carved out' and finished in white render, which is intended to complement the historical landmark that is Newmarket House."
The Chiltern Collection joins Newmarket Randwick's Newmarket Residences, Figtree Pocket, Young & Fennelly and Jane St. Terraces releases; as well as the popular Inglis Park and Newmarket Dining retail and dining precinct. Since opening to the public in January 2020, Newmarket Dining has grown to encompass a diverse retail and dining offering, including Gelato Messina, Ribs & Burgers, Dumplings & Beer, Sella Vinoteca, Café Mckenzie, CaliPress, Rara Ramen Randwick, Baccomatto Osteria and Barber Signature.
"Through a collaboration between highly regarded architects, Cbus Property has created a well-designed masterplan community to live, work and play," Mr Pozzo said.
"People enjoy having all of their creature comforts in one place, and our purchasers are looking for an increased level of open space and amenity in and around their homes – and we are incredibly proud to deliver this with Newmarket Randwick."
The Chiltern Collection launched to the public on 08 August 2022. Construction has recently commenced, with completion due for early 2024. Limited three-bedroom (with studio) Jane St. Terraces also remain available for sale. Please contact the selling agent, Colliers Residential, on 1800 870 828; go to www.newmarketrandwick.com.au; or visit the display suite at Shop 14 in the Newmarket Dining piazza at 162 Barker Street, Randwick, for more information.