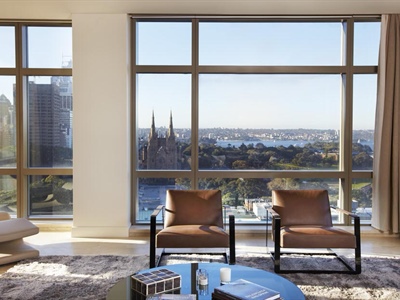 A sumptuous penthouse crowning The Residence apartment development in Sydney's CBD is back on the market with a $20 million price tag, after at least $1 million of upgrades.
The 800 square metre Sulman penthouse, which is bigger than a lot of inner-city houses, came close to setting a new price record for an apartment last year but at the last minute an offer fell through.
The development by a syndicate made up of AMP, Cbus Property and Galileo Group has mostly been sold, but the two penthouses have been harder to move due to a weak top-end property market.
The Sulman Penthouse, in College Street, is also known as apartment 88. It has three car parks, three bedrooms with marble ensuites, and a large pool terrace with 270 degree views of Sydney and the harbour. It also has a wine cellar. Strata fees alone are around $100,000 a year.
CBRE selling agent Ben Stewart said $1 million extra had been spent upgrading the apartment since last year. It now has new limestone finishes, and the pool terrace has been flattened into a more level open area. Some walls have also been moved.
He said there had been interest from interstate and overseas, and believed it would sell despite weak demand for prestige property.
"There isn't a great deal in terms of new penthouses on the market," Mr Stewart said. "There will be a buyer for this. It's such a unique position and property."
The current Sydney apartment record stands at $16.75 million.